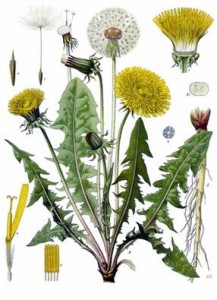 (segue versione italiana)
By way of introduction to these short notes on edible weeds, readers must be told that I know practically nothing about them.  I have therefore taken the following excerpts from two books  that I recently bought in the hope of some enlightenment: the pocket Collins Gem Food for Free and the lovingly and lusciously photographed Wild Food by Roger Phillips.

The dandelion is one of the most profuse weeds and can be found in just about any grassy place, be it a meadow, a lawn or by the side of the road. Its blazing yellow flowers bloom in late spring.  But its leaves can be found all year round.
The name is derived from the French dent-de-lion, referring to the toothed edges of the leaves or, possibly, to the white pointed roots.
Edible parts: leaves, flowers, roots
Leaves: in sandwiches, as a salad or cooked with butter like spinach
Flowers: dandelion flower wine and beer
Roots: dandelion coffee
Recipe: Dandelion Leaf Salad: Choose the youngest leaves and strip them from the plant by hand.  remove the excess stalk and wash well. Dress the roughly chopped leaves with olive oil, lemon juice and garlic.

Verdure Selvatiche di Maggio: Dente di Leone
Nel presentare queste brevi note sulle erbe spontanee, devo confessare ai lettori di conoscerle molto poco. Mi sono quindi affidata a due bei libri recentemente trovati che mi hanno illuminato: il piccolo e tascabile
Food for Free della collana Collins Gem, ed il riccamente illustrato Wild Food di Roger Phillips.
Il Dente di Leone (scientificamente: Tarassaco) è una delle erbe più diffuse e si vede facilmente in qualunque spazio verde: prati, aiuole e margini delle strade. I suoi fiori giallo brillante spuntano in tarda Primavera, ma le foglie sono presenti tutto l'anno.
Il nome, condiviso nel francese dent-de-lion, è dovuto alla forma frastagliata delle foglie o forse alla radice bianca e appuntita.
Parti commestibili: foglie, fiori, radici
Foglie: guarnire panini, in insalata, o al burro come gli spinaci
Fiori: fermentati per ottenere vino e birra
Radici: tostate per ottenere caffè
Ricetta: Insalata di dente di Leone: Scegliete le foglie più tenere, staccandole dalla pianta a mano, rimuovete i gambi e lavate bene. Dopo averle semplicemente fatte a pezzi, condite le foglie con olio d'oliva, succo di limone ed aglio.
This entry was posted on Friday, May 8th, 2009 at 10:28 pm and is filed under Sights. You can follow any responses to this entry through the RSS 2.0 feed. You can leave a response, or trackback from your own site.